Manajemen Akhlak Muslim Dalam Surah Al Isra` Ayat 23-39
Studi Analisis Terhadap Pemikiran Hamka Dalam Tafsir Al-Azhar
Mulyadi Mulyadi

STAI Diniyah Pekanbaru
Keywords:
Management, Morals, Moslem
Abstract
Hamka said that morality is the essence of the mind that is inwardly and has been stumbled, so that it causes temperament without thinking, either noble or despicable. Thus, what is meant by moral management is how to regulate, manage, and manage matters related to morality so that good and noble character is achieved following what is ordered. The formulation of the problem in this paper is how is the moral management in Surah al-Isra` from verses 23-39 according to Hamka contained in al-Azhar's interpretation?. So the purpose of writing is to find answers to these questions using a descriptive-analytic approach. The research method in this paper is a research library or literature review
References
Abil Fida Ismail ibn Katsir, Tafsir Al-Qur`an, (Semarang: Thoha Putra, 1985)
Abu Bakar Jabir al-Jazairy, Minhaj al-Muslim, (Bairut: Dar al-Fikr, 1995)
Abu Zakaria Yahya ibn Syaraf an-Nawawi, Riyadus Sahalihin, (Semarang: Thoha Putra, 1986)
Abu Bakar Al-Haitsami, Majma'uz Zawaid wal Manbaul Fawaid, ditahrijkan oleh Al-Iraqi dan Ibnu Hajar, (Semarang: Toha Putra, 1975)
Abu Ali Akhmad bin Muhammad, Tahdzib al-Akhlaq, (Mesir: al-Madba`at al-Hasiniyah, 1329)
Abu Dawud dalam: dalam Umar Sulaiman Al-Asyqar, Masail min Fiqhil Kitab wa Sunnah, (Dar Al-Fikr, 1414 H)
Adz-Dzahabi, Al-Kabaair, (Bairut: Dar Al-Fikr, 1979)
Al-Ghazali dalam : Hamka, Akhlaqul Karimah, (Jakarta: Pustaka Panjimas, 1992)
Al-Albani, Shahih At-Targhib wa Tarhib, (Semarang: Thoha Putra, 1975)
Ath-Thahawi, Syarah Musykilul Atsar, ditahqiqkan oleh imam Syu'aib Al-Arnauth. (Semarang: Thoha Putra, 1979)
Daud Rasyid. Islam dalam Berbagai Dimensi, (Jakarta, Gema Insani Press, 1998)
Hamka, Tasawuf Modern, (Jakarta: Pustaka Panjimas, 1990)
________, Al-Azhar, Djuzu` XV Cet. Ke-3, (Surabaya: Yayasan Latimojong, 1982)
Lukman Ali, Kamus Besar Bahasa Indonesia. Edisi II, Jakarta, Departemen P & K RI. Balai Pustaka, 1994)
Ibn Abbas dalam: Ahmad Ashawi, Hasyiah al-`Allamah as-Shawi `Ala Tafsir al-Jalalain, Juz II (Semarang: Thoha Putra, tt)
Ibnu Arabiy dalam: Hamka, Filsafat Ketuhanan, (Surabaya: Karunia, tt)
Muhammad ibn Ismail al-Kahlani, Subulus As-Salaam, (Semarang: Thoha Putra, 1987)
Nashar bin Muhammad, Tambih al-Ghafilin, (Surabaya: Al-Hidayah, tt)
Thabathaba`i, dalam Quraish Shihab, Tafsir al-Mishbah, volume 7 (Jakarta: Lentera Hati, 2002)
Yazid bin Abdul Qadir Jawas, Berbakti Kepada Kedua Orang Tua, (Jakarta: Darul Qolam, 2001)
Zakaria Anshori, as-Syarqawi, Juz II (Bairut: Dar al-Fikr, 1995)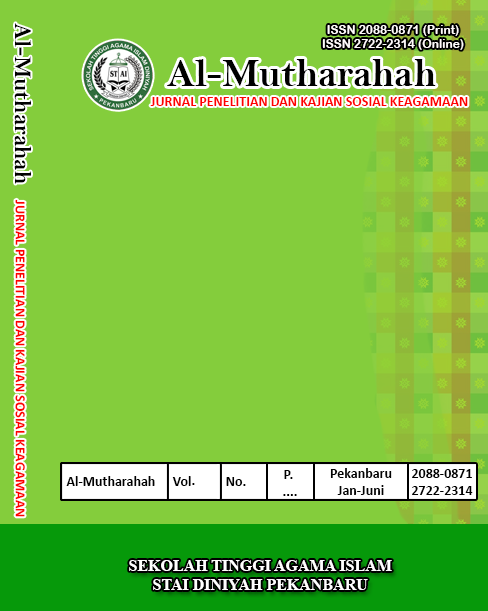 How to Cite
Mulyadi, Mulyadi. 2020. "Manajemen Akhlak Muslim Dalam Surah Al Isra` Ayat 23-39". Al-Mutharahah: Jurnal Penelitian Dan Kajian Sosial Keagamaan 17 (1), 104-29. https://doi.org/10.46781/al-mutharahah.v17i1.78.
Copyright (c) 2020 Mulyadi Mulyadi
This work is licensed under a Creative Commons Attribution-ShareAlike 4.0 International License.