Strategi Kepala Sekolah Mengembangkan Budaya Islami Di SMP Islam Terpadu Se Kecamatan Tanayan Raya Pekanbaru
Tika Emilda

IAI Pelalawan
Keywords:
Principal Strategy, Islamic Culture
Abstract
This journal aims to find out the strategies that can be carried out by school principals to develop Islamic culture for schools characterized by Islam (Integrated Islam). The results of research conducted in all SMPs in Tanayan Raya Pekanbaru District, almost all school principals have implemented Islamic culture that is the hallmark of Integrated Islamic Schools (IT) including principals implementing policies to familiarize themselves with S3 (greetings, smiles, and greetings), getting used to shaking hands between teacher and teacher and with students, getting used to praying before and after learning, reading the Qur'an, getting used to praying the Dhuha Zhuhur and Asr in the congregation, Muhadarah. In addition to the above policy, the principle also applies the Exemplary method, familiarizes good things, enforces discipline, provides motivation, and cooperation with parents in upholding Islamic culture
References
Ahmad Tafsir, Metodologi Pengajaran Agama Islam, (Bandung: Remaja Rosda Karya, 2004),
Asmaun Sahlan, Mewujudkan Budaya Religius di Sekolah (Upaya Mengembangkan PAI dan Teori ke Aksi), (Malang: UIN Maliki Press, 2010)
Abuddin Nata, Manajemen Pendidikan: Mengatasi Kelemahan Pendidikan Islam di Indonesia, (Jakarta: Kencana, 2010), cet.4.
Didin Hafidhuddin dan Hendri Tanjung, Manajemen Syariah dalam Praktik, (Jakarta: Gema Insani Press, 2003)
Hickman dan Silva, dalam Purwanto, Budaya Perusahaan, (Yogyakarta: Pustaka Pelajar, 1984).
Koentjaranindrat, "Kebudayaan, Mentalitas dan Pembangunan" dalam Muhaimin, Nuansa Baru Pendidikan Islam, (Jakarta: Raja Grafindo Persada, 2006)
Lexy . J. Moleong, Metodologi Penelitian Kualitatif Edisi Revisi. (Bandung: Remaja Rosda Karya, 2012),
Mulyasa, Pedoman Manajemen Berbasis, Madrasah, (Cet. II; Jakarta: Departemen Agama RI, 2005)
M. Saleh Muntasir, Mencari Evidensi Islam (Analisa Awal Sistem Filsafat, Strategi, dan Metodologi Pendidikan), (Jakarta: Rajawali, 1985)
Nurkolis, Manajemen Berbasis Sekolah, (Cet. II; Jakarta: PT. Grasindo, 2005)
Tony Bush dan Marianne Coleman, Manajemen Strategi Kepemimpinan Pendidikan, terj. Fahrurrozi, (Yogyakarta: Ircisod, 2008)
Wahjosumidjo, Kepemimpinan Kepala Sekolah; Tijauan Teoritik Dan Permasalahannya, (Jakarta: PT Raja Grafindo Perkasa, 2007),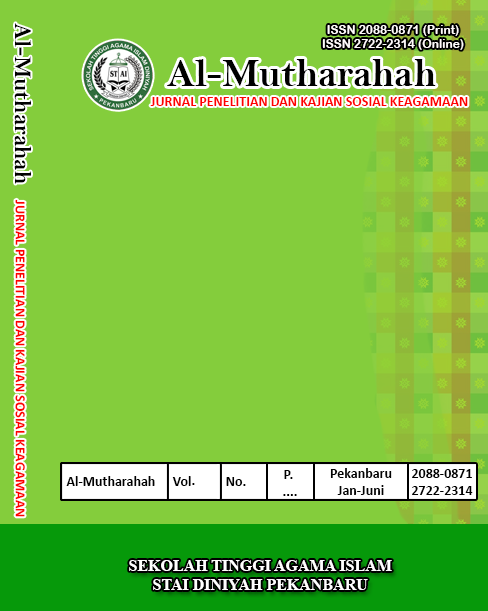 How to Cite
Emilda, Tika. 2020. "Strategi Kepala Sekolah Mengembangkan Budaya Islami Di SMP Islam Terpadu Se Kecamatan Tanayan Raya Pekanbaru". Al-Mutharahah: Jurnal Penelitian Dan Kajian Sosial Keagamaan 17 (1), 75-86. https://doi.org/10.46781/al-mutharahah.v17i1.74.
Copyright (c) 2020 Tika Emilda
This work is licensed under a Creative Commons Attribution-ShareAlike 4.0 International License.