Media Pembelajaran Ramah Lingkungan Sekolah Dasar Negeri Inklusi Di Pekanbaru Di Era Revolusi Industri 4.0
Ahmad Denico

IAI Dar Aswaja Rokan Hilir
Keywords:
Environmentally Friendly Learning Media, Industry 4.0
Abstract
The era of the industrial revolution 4.0 is famous for the rapid development of technology. This development must be accompanied by environmental balance. The development of technology that is not environmentally friendly becomes a problem for the community besides the problem of plastic waste which is equally disturbing. Environmental problems not only disturb society in general but also seeped into the educational environment for that, as educators, we must utilize used items to be used as learning media. This journal aims to determine the environmentally friendly learning media that can be used by teachers to deliver learning material that dances students in the class. An environmentally friendly learning media is a media that utilizes used goods to be used as a material delivery tool to focus on student learning. There are several environmentally friendly media that can be used by teachers including utilizing used bottles to be used as models for human breathing equipment, used boxes used as clock models, used aqua bottles used as transportation media models and others
References
Ahmad Tarmiji. (2015) Menuju Green School: Penerapan Kurikulum Pembelajaran Berwawasan Lingkungan di Institusi Pendidikan.
Ayu Rahayu. (2014). Penerapan Konsep Pendidikan Ki Hadjar Dewantara Dalam Pembelajaran Untuk Membentuk Peserta Didik Berkarakter Cerdas dan Berintegritas. Jurnal Edukasi UIN Walisongo Semarang Volume XI nomor 1 September 2015
Azhar Arsyad, Media Pembelajaran, (Jakarta: Raja Grafindo Persada, 2013), cet. 16
Cecep Kustandi dan Bambang Sutjipto, Media Pembelajaran Manual dan Digital, (Bogor: Ghalia Indonesia, 2013), ed. II
Ki Hadjar Dewantara. (2011). Karya Ki Hadjar Dewantara Bagian Pertama Pendidikan. Yogyakarta: Penerbit Yayasan Persatuan Tamansiswa.
Lexy . J. Moleong, Metodologi Penelitian Kualitatif Edisi Revisi. (Bandung: Remaja Rosda Karya, 2012)
Nani Aprilia. Evaluasi Pengelolaan Sarana Pendukung yang Ramah Lingkungan pada Program Adiwiyata di SMP Muhammadiyah Di Kota Yogyakarta. Prosiding Seminar Nasional Pendidikan Biologi 2015
Peraturan Menteri Pendidikan Nasional Nomor 70 Tahun 2009
Permendiknas Nomor 16 Tahun 2007 tentang Kompetensi Guru
Suraji, I. (2012). Urgensi Kompetensi Guru. Edukasia Islamika
Siarni, S., Pasaribu, M., & Rede, A. (2015). Pemanfaatan Barang Bekas Sebagai Media Pembelajaran Untuk Meningkatkan Hasil Belajar IPA Siswa Kelas IV SDN 07 Salule Mamuju Utara. Jurnal Kreatif Tadulako, 3(2).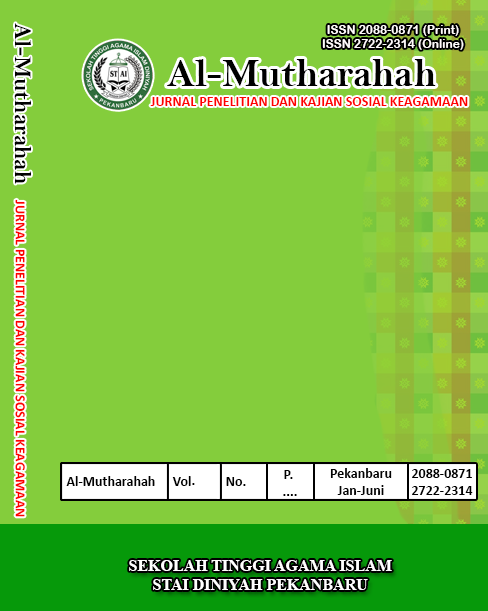 How to Cite
Denico, Ahmad. 2020. "Media Pembelajaran Ramah Lingkungan Sekolah Dasar Negeri Inklusi Di Pekanbaru Di Era Revolusi Industri 4.0". Al-Mutharahah: Jurnal Penelitian Dan Kajian Sosial Keagamaan 17 (1), 62-74. https://doi.org/10.46781/al-mutharahah.v17i1.73.
Copyright (c) 2020 Ahmad Denico
This work is licensed under a Creative Commons Attribution-ShareAlike 4.0 International License.