Belajar Membaca Al-Quran Dengan Metode Qiroati Di KB Mutiara Insani
Hasan

IAI Dar Aswaja Rokan Hilir
Keywords:
Learning Al-Qur'an, Qiroati Method
Abstract
This journal aims to provide an overview of learning to read the Qur'an with the Qiroati method carried out at KB Mutiara Insani. This research is a qualitative descriptive study with a percentage. The results of the study were divided into two categories: individual and institutional achievements: Individually: 15 students were only able to reach volume 2 with a mastery level of 33%, 8 KB Mutiara Insani students were only able to volume 3 with a mastery level of 50%, 2 KB Mutiara Insani learners are able to reach volume 4 with a mastery level of 66%, 6 KB Mutiara Insani learners are able to volume 5 with a mastery level of 83%, 10 KB Mutiara Insami learners are able to read the Qur'an until volume 6 (up to the Qur'an) with a level of mastery of 100% with the category of Very Good. As for the target of achieving mastery at the institutional level (KB. Mutiara Insani) 61.59% with the category Less.
References
Alquranul Karim, Departemen Agama Republik Inonesia, Bandung: Penerbit Diponegoro, 2007
Abul Husain Muslim bin Muslim Al-Hajjah, Kitab Shahih Musim
Adi Suryanto Dkk, Evaluasi Pembelajaran di SD, Universitas Terbuka. Cet. Ke 19. Tangerang Selatan, 2016
AW. Munawwir, Kamus Al-Munawwir, Arab Indonesia Terlengkap, Surabaya: Pustaka Progressif,1997
IG. A.K Wardhani, Langkah-Langkah Penelitian Tindakan Kelas, 2.23 Universitas Terbuka, Tangerang Selatan 2014.
Kadar M. Yusuf, Studi Al-Qur'an. Amzah, Jakarta, 2014
Mahyuddin Abi Zakariya bin Syarif Annawawi, Riyadus Shalihin, Surabaya.
Muhammad bin Ismail, Shahih Bukhari, Penerbit Daar Ibn Katsir Damaskus 2002
Muhammad Nasiruddin Al-Albani, Shahih Sunan Tirmizdi (Seleksi Hadits Shahih dari Kitab Sunan Tirmizdi). Pustaka Azzam Jilid III.
Peraturan Menteri Agama Republic Indonesia No 13 Tahun 2014, Tentang pendidikan keagamaan Islam
Saifuddin Azwar, Metode Penelitian, Yogyakarta: Pustaka Pelajar, 1998, cet. 1
Suroto Suruji Dkk, Metode Praktis Mengajar Qiroati (Pegangan Guru) Sekpend. TKA. Bata-Bata
Laporan Dapodik KB Mutiara Insani 12 November 2019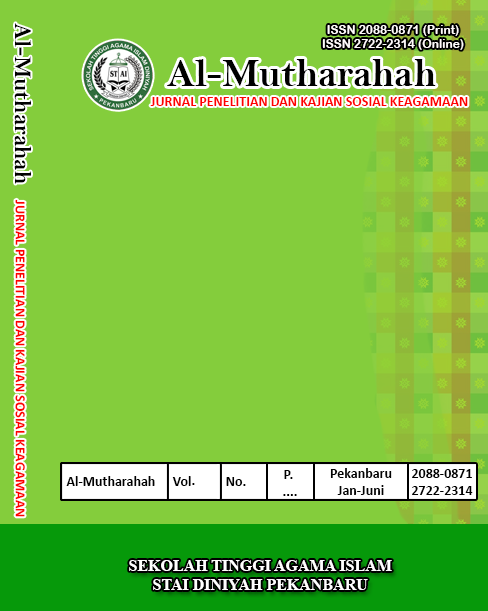 How to Cite
Hasan, Hasan. 2020. "Belajar Membaca Al-Quran Dengan Metode Qiroati Di KB Mutiara Insani". Al-Mutharahah: Jurnal Penelitian Dan Kajian Sosial Keagamaan 17 (1), 43-61. https://doi.org/10.46781/al-mutharahah.v17i1.71.
Copyright (c) 2020 Hasan
This work is licensed under a Creative Commons Attribution-ShareAlike 4.0 International License.